Transition 2021
A very warm welcome from all the staff, governors and students at Cottingham High School.
The transition from primary to secondary school is an important milestone in the lives of children and their families. At Cottingham High School, we pride ourselves on providing our new students, parents and carers with a smooth and extensive transition programme so that students arrive on their first day in September excited about the next chapter of their education.
We strive to support all our Y7 students in adapting to their new routines through an engaging, personalised and caring experience which allows them to develop their confidence and build strong relationships with a wide variety of people.
To find out all you need to know in your transition moving up to secondary, please have a good look through our 'Welcome to Cottingham High School' booklet in the attachment at the bottom of this page. We look forward to meeting you soon.
This year the Y6 Open Event will be delivered virtually, please click HERE so you can see what our fantastic team of staff can offer your child from September 2021.
Thank you!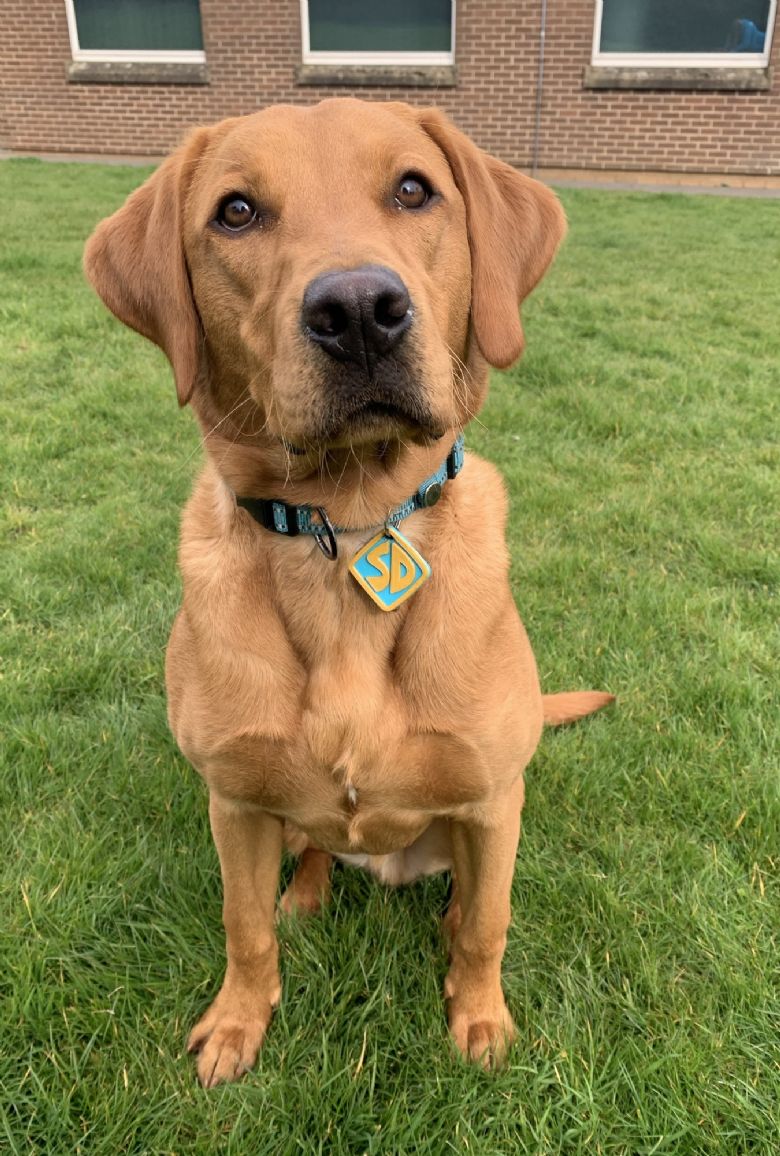 Marlowe, the school wellbeing dog, looks forward to welcoming you to Cottingham High School
"I am so pleased with my daughter's start to Year 7. She has made a group of friends very quickly and she has been smiling! She told me the other day that she wished she had been able to see into the future because she wouldn't have got so worried about the move to High School. It was a big step leaving Primary School friends behind, so I am really pleased that she has settled in so quickly. Thank you ever so much for your support."
Year 7 Parent (2019/20)
"I am proud to be a part of Cottingham High School because I am part of an amazing community, from the staff to the students, they are all so helpful and supportive of each other."
Year 7 Student (2019/20)
"The best bit about Cottingham High School is the staff. They are really helpful and always happy to answer any questions you may have."
To learn more about what you can expect school life to be like at Cottingham High School, please listen to our students share their experiences
Please click here to take a look around the school with the help of Marlowe.
Transition timetable of events
Primary school visits
Close contact with our family of primary schools starts in Year 5, with a variety of sporting events organised by our School Sports Co-ordinator. In Year 6, we hold transition meetings with all Year 6 teaching staff from feeder and non-feeder schools, during May and June. Academic, pastoral and SEND information is gained for every student in order to best support and challenge individuals when they arrive with us. We also offer transition lessons in a range of subjects during the summer term, including Drama, P.E, Science and Technology.
New Year 7's Parents' Evening: 1 July 2020 at 6.00pm
In July, students and parents/carers can visit the school to attend a presentation about our curriculum, school systems and other information helpful to transition. They will also meet with their form tutor as well as other key staff, such as the Head of Year 7.
Transition Week: 13 – 17 July
During the final week of the year, students are invited to attend our transition week and take part in a programme of exciting and engaging activities. The week allows students to get to know to their new surroundings, teachers and routines while making new friends along the way. The transition week leads to students feeling confident and reassured about starting with us in September. We finish the week with a celebratory event to which all parents and carers are invited, to share some food and refreshments while celebrating the achievements of our new intake during their transition week.
Team Building Day
In the first week of term, we will be holding a safe team building day for all our new Year 7s. This allows them to work collaboratively through some challenging scenarios to improve their problem solving and communication skills. Students work closely in their tutor groups, forming new relationships to help them feel settled in their new environment.
Students requiring additional support during transition
For any students identified as needing additional support during the transition process, we organise further visits and parental meetings to ensure we have all the information we need to facilitate a confident and purposeful beginning to secondary education. We actively encourage parents to make an appointment with the Head of Year 7 if they wish to discuss any specific needs in more detail.
Here is a message from all the PE staff introducing themselves and very much looking forward to meeting you in September. Please click here.
For all uniform requirements, please click here for further information.
As a result of the Coronavirus some of our usual transition events may need to be changed or adapted. Please keep checking the website for updates.
All correspondence sent to Y6 parents can be found below.