Aladdin Production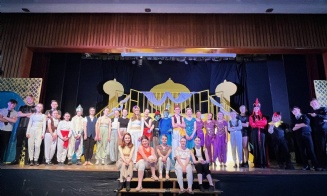 In the week beginning March 20th, CHS students presented their annual musical, and this year the show was Disney's Aladdin! With all the famous songs we know and love, our predominantly KS3 cast took their audiences, including students from our feeder primaries in Wednesday's matinée performance, to the magical land of Agrabah, to enjoy the journey our characters Genie, Aladdin, Jasmine and Jafar take in the story for power and love.
The production not only gave students an opportunity to perform on stage, but it also unites them to share in their enjoyment for developing new skills, collaborate to achieve a shared challenge and build new relationships. By performing to an invited audience of primary schools: Croxby, Hallgate and Westfield, Year 5 & 6 students can experience what opportunities Cottingham High School will give to them when they transition to KS3. The school will feel familiar to them when they attend, as well as being able to recognise the familiar face of those students they saw perform in the show.
---
All guests were warmly welcomed by some of the staff based at Cottingham High School, by giving out free popcorn and a bottle of water to each student!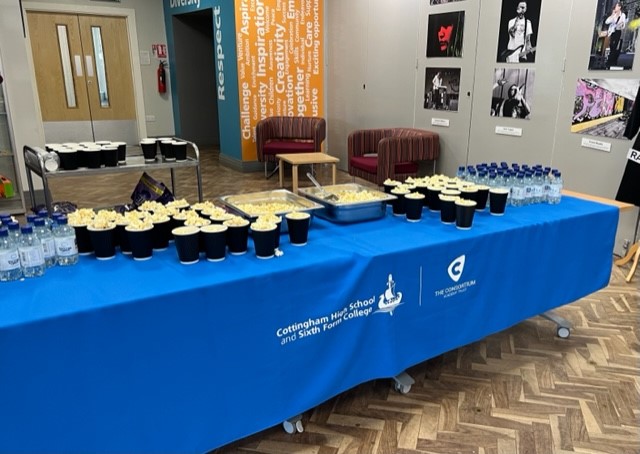 ---
One of the teachers from Croxby who attended he Aladdin production had some lovely feedback with how they all found the performance.
"Thank you very much for inviting us! We are about to put on our own musical at school - Oliver Twist - in the summer term, so we wanted the children to feel enthusiastic about auditioning, rehearsing and performing. We also have many Year 5 children in the school choir, so watching and listening to musical performances is a great example for them. As we are a feeder primary and part of the trust, we also wanted to show potential applicants to Cottingham High what they could take part in if they move on to your school.

The show was fantastic, and we had a lovely afternoon."

Lauren Jessney - Croxby Primary Teacher